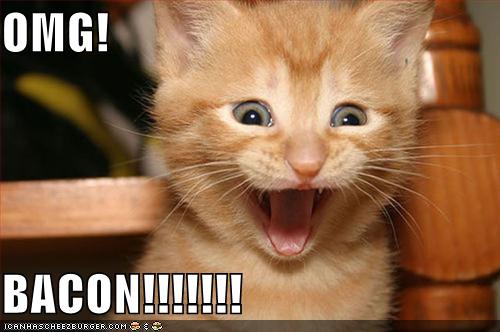 i couldn't edit this to read "omg vampire weekend." were that change made, i would BE this lolcat.
i am seeing vampire weekend for the third time three weeks from tonight. guh. i don't know how i am going to wait three weeks especially considering it will be twice in that week that i will see them and they will probably have some new songs to play and they will probably play ladies of cambridge which is SO GOOD LIVE, SO GOOD. my friends hear about this too much but: june 14 they played it just after m79, throughout which it was raining lightly. ezra played the first chord of ladies of cambridge with rostam and that keyboard just syncopated, perfectly, the bass and the drums, and it started to POUR. it was cathartic. every kind of tense i had ever felt went away. that's when i stopped caring about all my shit getting wet and i remember, kind of, yelling "take! it! take! it!," and me and my brother and simone just went crazy dancing soaking wet, and then with that big long quiet section, and everyone was so silent, and in those little pauses before chris brings it back with the drums all you could hear was the rain and this little feedback fuzz and when ezra took a breath to sing something you took a breath to say nothing, just because you had to breathe and you'd forgotten until he reminded you. and i remember after "but for you i could put it to rest," i didn't think they would finish the song. there was this total stillness, it was haunting and somewhat terrifying given the nature of the song, the almost suicidal drive of it. i wasn't sure what was going to happen. most of us were completely silent. and then "buuuuut IF YOU LEAVE I JUST DON'T THINK I COULD TAKE IT!!!!!" absolutely incredible. first this division, this distance. then this total collective insanity!
um, i've been surviving thanks to sam / this song which i managed to play on monday nonstop throughout the following:
attending three and a half classes at school, walking to the train station, taking the train to the city, taking the subway to columbia / 116 st, struggling to eat a giant linzer cookie, walking around the campus at barnard attempting to find the admissions office, leaving barnard after my interview, on the subway back to grand central, running for the train, getting on the wrong train, sitting next to a middle-aged dude reading twilight whilst listening to prince, taking the wrong train to the wrong station.
DUPPY CONQUEROR --- SAM BUCK ROSEN
.
i love sam. i have a funny story to tell about sam, but i'll save this for when i finally get GET THE MOTION, which is an incredible song, and which i should get soon to give to you. my musican friend anthony (who may soon record an album of christmas carols with booty-droppin' beats featuring some other cool guys) remarked on the "groove" of this song. there is really a groove to it. the first little stanza of lyrics is quite good, too. i can't get over his voice. i've tried to describe it too many times and have failed miserably each time.
because i was just speaking about VW and don't want to make a whole other post about them which is too much even for me, here's them covering classic belgian punk gem, plastic bertrand's "ca plane pour moi," en paris a few days ago...
CA PLANE POUR MOI --- VAMPIRE WEEKEND
it's a bit difficult to understand because it was just recorded on someone's camera. that's okay. you can understand that it was pretty exciting.