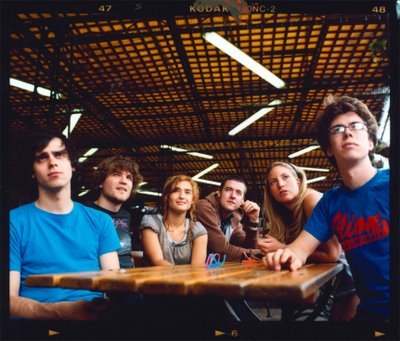 well done, ra ra riot. 
there is no other album coming out this year that i am aware of that i care about even remotely.
i'm not even going to bother and i'm going to just say GO OUT AND BUY THE RHUMB LINE RIGHT NOW BEFORE I SMACK U. it is massively beautiful. it is an incredible, incredible debut and sounds, even the sad songs, like joy. this will end up being one of my favorite albums this year. 
last night after we saw ra ra riot play at virgin me and my two friends walked down broadway quoting from can you tell and dying is fine, talking in general about how great they are, live and recorded, now and then, always, the way they dance and sing to each other, the way they smile the whole time, the way the six of them can command a room, any room, totally, from floor to ceiling and back to front. today i will buy tickets to see them a third time. having ra ra riot open for you is probably the worst idea ever. this would be like having architecture in helsinki open for you. i don't care how good you are -- you could be radiohead. you will be bested. 
that said: RA RA RIOT ARE IMMENSE LIVE AND THEY ARE PLAYING TWO NEW YORK DATES:
bowery ballroom october 16 (i will be here)
music hall of williamsburg october 17
watch them play
too too too fast
in an attic and see if you catch my drift.
listen to
can you tell,
the best crush jam wes miles has written since
orange shirt.
JUST BUY THE ALBUM OKAY? 
m12=real
genevieve