LET'S TALK ABOUT THE WALKMEN: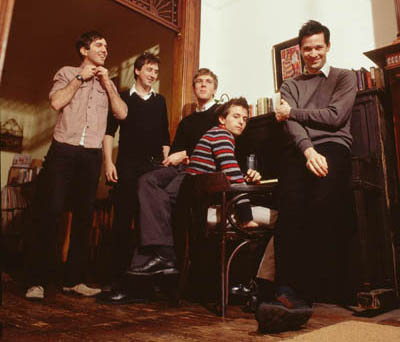 they have that one really great song that was on the OC, "little house of savages" (forgive me, i can't find an mp3). that song is amazing. hamilton leithauser employs The Yelp with a cameron-birdish sense of abandon, but with the proficiency and talent of britt daniel, and there's that nagging feeling the song's about some kind of spousal abuse: "somebody's waiting for me at home... i don't wanna go!"
the walkmen have a new album out on august 19 called you&me. i predict that it is going to be breathtakingly awesome based on the collection of songs i have heard, one of which i will give to you:
THE BLUE ROUTE
.
check out that yelp! "what happened to you!?!"
"all the blackbirds in the sky... a hundred fireflies at night..."
my favorite thing about this band is how they create these LANDSCAPES OF SOUND. i'm trying to think of other bands that do this. you will not understand what i am saying unless you listen to this song, or others by this band. also elusive is a way to describe this: every sound is so necessary, you know: you have the voice i described above, the drums (excellent, very crisp, lots of cymbal and tambourine), the guitar (which is really reminiscent of spoon to me), this great organesque keyboard, nice clean simple bass... when these things come together you don't just get a picture - you know how some songs make a picture? the walkmen make music that you can walk into. three-dimensional, i guess. i'm thinking... big, wide blue sky, desert - windy. cold. little house of savages made me picture a house outside los angeles or in the bronx, broken-down, summer night - hot. old-style station wagons, big cars, maroon, circling.
THE NEW YEAR
, for an added point. what do you see with this one?
stereogum said they were "taken aback" by how great you&me is. this means, i'm excited. i think i will buy this when i go buy the rhumb line.
i can't find that noah and the whale album.
RADIOHEAD IN THREE DAYS.
BATTLES IN ELEVEN DAYS.
m12=real
genevieve=super excited.